Designer Fiona Squires on her Christmas Rituals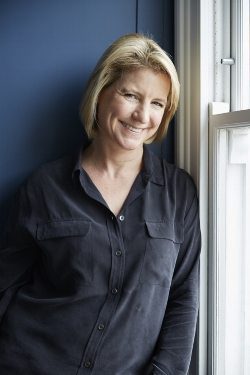 We've become well acquainted with the work of interior designer Fiona Squires since she started integrating some of our rugs into her projects. The designer has a great way of pulling together rooms using colour, pattern and texture, while balancing traditional furniture and ideas with the super contemporary. You can see a little of her work below, and even more on her website.
Brought up in France, Fiona originally worked in the City of London as a Lawyer, but in 2010 decided to follow her dreams for a more creative existence.
Since she's got such a handle on how to create the perfect interior, we suspected her Christmas must be pretty stylish too and so asked her to talk us through her rituals for the celebratory day…
"Christmas colours remain classic for me: mainly gold and red." 
How did you tend to spend your Christmas?
"I spend Christmas with my family whether that be in France or in the UK. This year we are really excited about spending our first London Christmas."
Do you have any Christmas rituals that you've carried on from childhood or anything you've gathered along the way?
"As a child growing up in France we used to celebrate on Christmas eve.  We've now switched to the English way and celebrate it on Christmas day because we find it more fun for the children.  Christmas, for me, is all about family and the children having a magical day (mine still believe in father Christmas!)."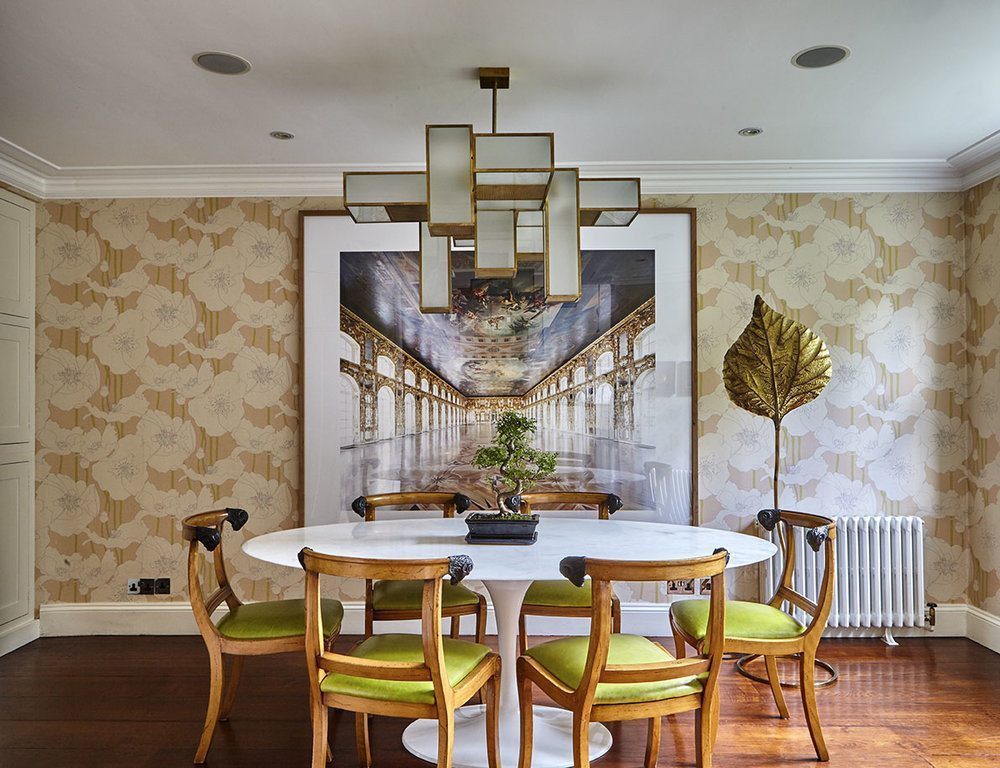 A striking dining room designed by Fiona Squires for a private client
How does the day tend to evolve – e.g when do you open the presents, who does the cooking etc?
"We cannot hold the children back so open the presents first thing in the morning over a big continental breakfast served on a large tray placed on the coffee table in front of a real crackling fire.  We go to church and the children are then kept busy with their toys which gives us time to sort out the chaos and prepare lunch.  My husband cooks and I lay the table! Feast usually begins around 2pm and that's it, not much more to say for the rest of the day!"
What are your top tips for making the table look festive and enticing?
"I dress the table with a fine white linen table cloth and napkins that were passed down from my Grandmother, white Limoges porcelain plates with a gold rim, fine Moser crystal wine and water glasses, festive Zara gold cutlery, candelabras and tealights placed in handmade fine porcelain ceramics from Epure Ceramique, hydrangeas and roses in vases from Svenskt Tenn, some gold glitter sprinkled over the centre of the table cloth and something fun in each plate – eg an item of a fancy dress costume (Christmas tree sunglasses or a father Christmas beard etc), a game or a lottery ticket maybe because it's Christmas day and who knows, you could get lucky!"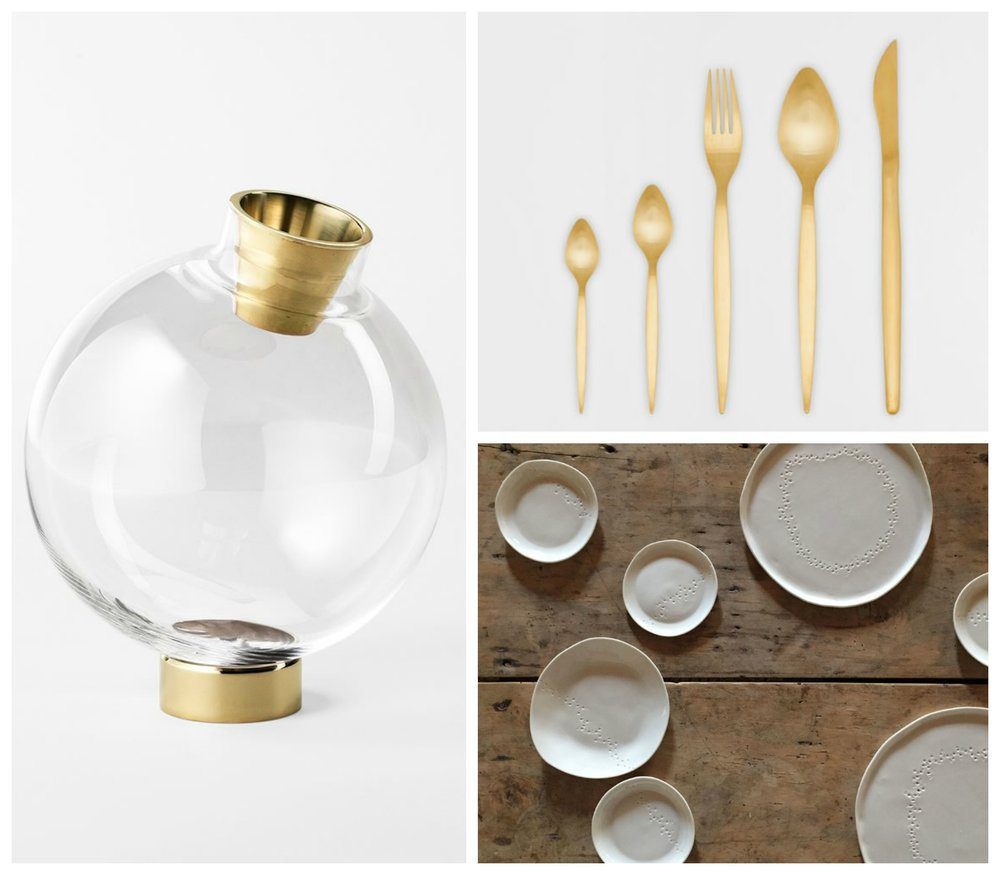 Gorgeous details based on Fiona's ideas – vase from Svenkst Tenn, cutlery from Zara, porcelain from Epure Ceramique
Do you decorate for Christmas using principles you'd employ for design or is it more ad hoc than that?
"It's more ad-hoc than that. I love using gold but not too much, old school tree decorations (wooden or ceramic) we've accumulated over the years, nothing plastic and no tassles, ever. I love fresh flowers and greenery.  I don't do Christmas scents other than the odd orange peel and cinnamon stick that I burn on the open fire.  I stick to my Diptyque woody scents I love so much.  I am quite traditional in my Christmas decoration and keep it elegant."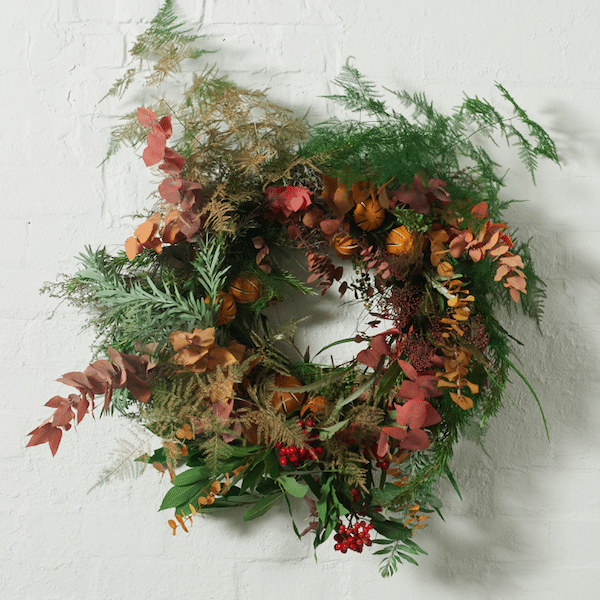 Keep it natural with a fresh floral wreath from Grace and Thorn
Any colour themes you are into that will shape what you do this year?
"Christmas colours remain classic for me: mainly gold and red."
Tree?
"I have a real tree decorated with lots of gold and oversized red glass baubles, clear baubles, vintage decorations, dried orange and cinnamon sticks infused with the same essential oils for smell, and opaque glass mini ball lights that are discreet and don't flash."
How about crackers?
"Definitely crackers: for the children. But classy crackers or really fun ones: last year we had a cracker symphony set which entails appointing a conductor and a lot of whistling, hilarity and chaos."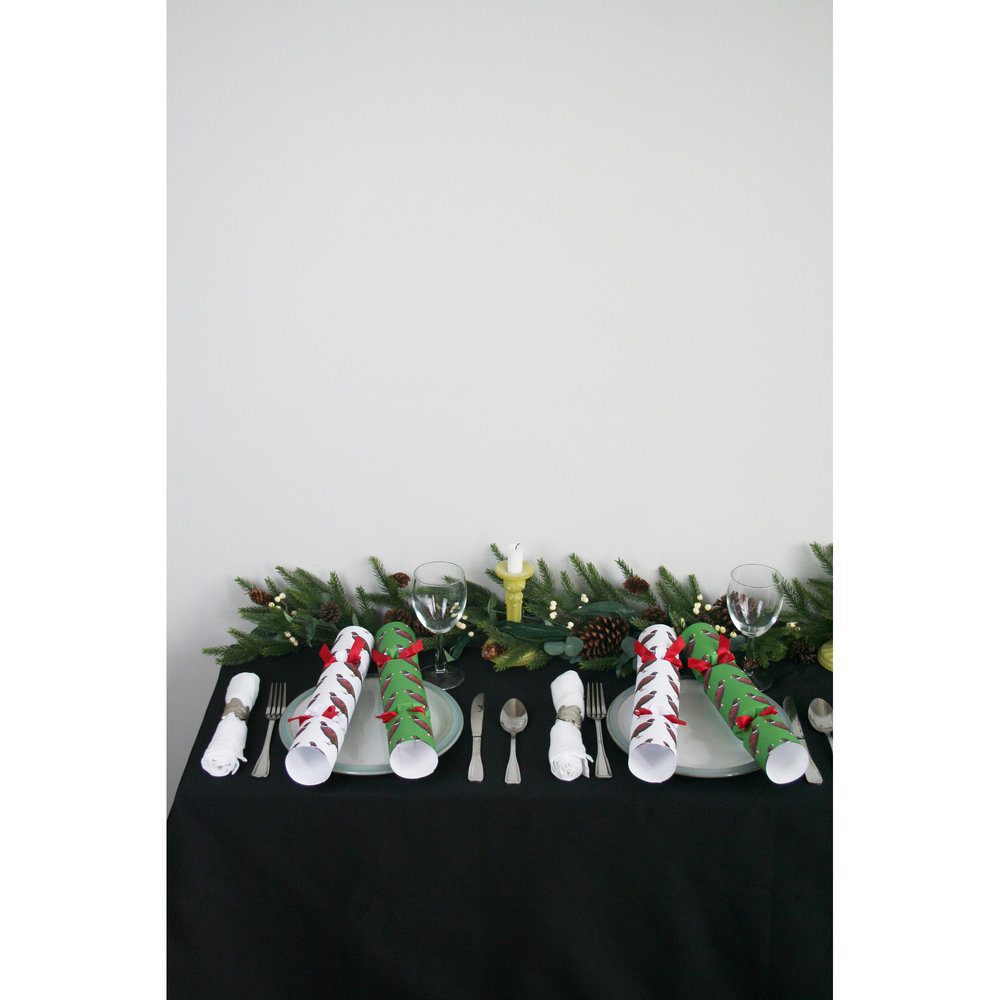 Festive crackers with red details from Skandium
Any famous places that get Christmas just right to you, or that have made you laugh in the past?
"The Place Vendome in Paris – the place is majestic anyway and they get the Christmas decorations just right: not too many and very chic.  Makes me laugh the most are father Christmas climbing up the front of houses with their sacks on their back!"
What's on your own present wish list this year or what are your hopes for the new year?
"If Santa feels generous jewellery from Aurelie Bidermann, I have been coveting the Chivor necklace, but let's see! Next year, I wish for family good health and for my business to continue flourishing: I am working on a bed linen brand which I hope may launch in 2017."