Choosing the right one!
I am talking rugs… obviously. Rugs are so often just an afterthought….amirite? But not having the right rug can make a room feel very unsettled….
Selecting the right style:
Rugs help to set the tone of a room so it is important you decide on the feeling that you are trying to achieve. Whether the mood is luxurious, elegant, casual, contemporary or traditional, your rug will serve to enhance this feeling.
I personally love geometric designs as they are pleasing to the eye and help instil a sense of calm and order (and I love order!). Our Moroccan Beni Ouarain rugs will do just that! These rugs have a calm and minimalistic look and their white colour palette with simple geometric design are great all rounders for interior lovers.
When going for this style of rug you also need to consider if you prefer the look of contemporary Beni rugs or the more charismatic vintage carpets.
Statement pieces or bold rugs are a great option if you wish to introduce colour and pattern to a room. Whether it is a new rug or an older carpet you are after, all my pieces are one of a kind and more importantly I source rugs that you don't really see everywhere!
Selecting the size:
When it comes to selecting the size of the rug, each room is different, however here are some guidelines that are worth keeping in mind!
Sitting room: The front legs of the sofa or armchairs should sit on the rug and there should be an overhang of at least 15cm at the sides
Bedroom: The most popular options are to either sit a large rug underneath the whole bed, bearing in mind a large proportion will be covered, or to opt for a runner on one or both sides of the bed. In either case, there should be a 20cm gap between the side tables and the edge of the rug, still ensuring that there is some rug to land on when getting out of bed.
As a rule of thumb, you should allow an overhang of at least 45cm at the base and sides. Personally I prefer it slightly more generous, with an overhang of about 60cm to 85cm, depending on the size of the room and furnitures.
Dining room: Low-pile rugs such as flatweaves and hand-knotted pieces with a short pile are best here so chairs can slide in and out without catching. The rug should also be large enough so that the chairs do not fall off the edge when pulled out.
A rule of thumb the chairs should sit on the rug with an overhang of about 20cm. Alternatively, measure the dining table and add approximately 120cm-150cm to the length and/or width, depending on the shape of the table and layout of the room.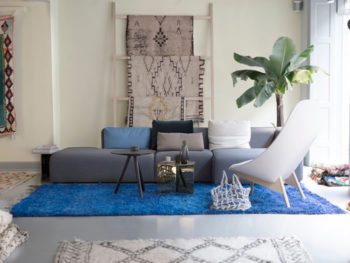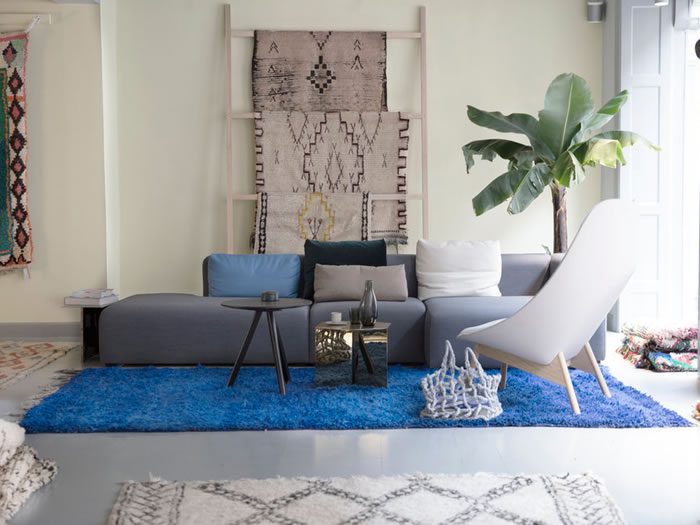 Want to see the rugs in real?
Come visit our store on 204 Battersea Park Road SW11 4ND.
Alternatively all online orders can be returned within 5 working days for a  full refund minus postage.