Styling tips with Abel Sloane and Ruby Woodhouse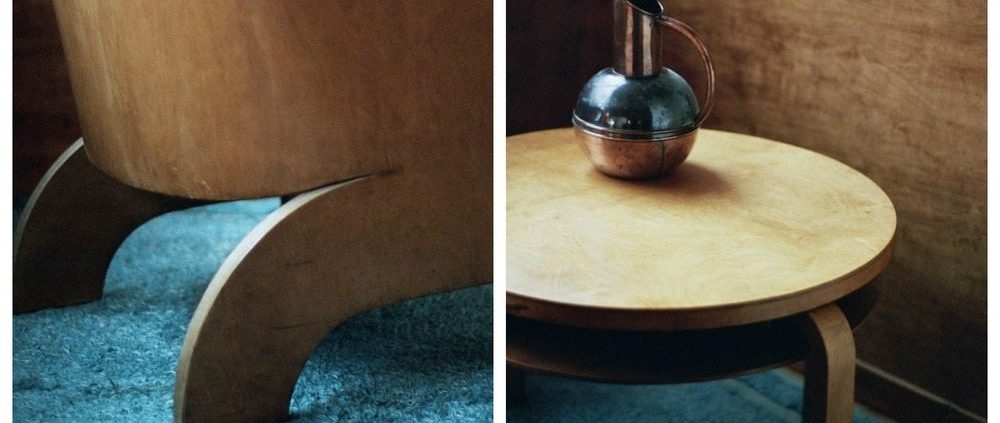 Abel Sloane and Ruby Woodhouse are a young duo running the multi-disciplinary company 1 9 3 4. Their main job is sourcing 20th century furniture and design pieces for private buyers, designers and stylists – the company is named after the year in which Gerrit Rietveld designed his 'crate' furniture series. They've borrowed some of our rugs for various shoots and Midcentury Modern shows and we love the way they display them alongside their collection of furniture and textiles so we wanted to feature them on the blog.
Abel, whose background is English literature, has been working with furniture since 2012 and used to do restoration work for Retrouvius. "My absolute passion is Dutch modernism, De Stijl, Gerrit Reitveld, and that whole group of Dutch designers from the inter-war period," he says. And he once found and bought 23 Alvar Aalto chairs for £1 each!
Ruby comes from a Graphic Design background, but has always been interested in visual curation "she always carries a camera," says Abel. The styling work they produce is often quite minimal, but never without warmth. Below, in our short interview, we asked them share a few secrets for how to achieve this fine balance…
What are your favourite designers whose furniture you are always drawn to?
"One designer whose furniture we always buy has got to be Alvar Aalto. His pieces are always current and he achieved the perfect balance – it's modernist in production and lightness whilst retaining a humanness in form."
How about the most obscure designer name you have in your rosta whose work we should all know about?
"Not exactly an obscure name but we currently have quite an obscure bedroom set by Ambrose Heal from circa 1917. It's black with hand painted flower details around the outside. We think that it's quite important to go beyond the timeline of what is so often called 'Mid Century' – we gave up on describing what we do as that. Beyond can mean in both directions, of course; we look at contemporary design, not just furniture but in fashion, graphic design, exhibition design and everything else that surrounds the subject."
What one piece would you love to get your hands on?
"That question is too hard!" Ruby – "Not asking for much here, but a Charlotte Perriand Kitchen… please!" Abel – "I have to stay loyal and say something by Gerrit Rietveld – an original Military table and chair set I think."
STYLING ROOMS and finding inspiration
In the rooms you've shot, you bring warmth and colour to Mid Century pieces, which can look chilly in isolation – any tips for creating this balance?
"First, natural light is a must when creating warmth and as we've mentioned about Aalto's pieces, it's that balance of humanness with inanimate furniture. It's worth taking time in considering the furniture you want in your home – don't make rash decisions. Think about what works with the colour and weight of the wood you have among your furniture. We look more at artists we like, their paintings and what sort of moods certain colour combinations suggest. Basically look beyond interiors for inspiration."
 Are there any 'public' houses that you'd love to visit for interiors inspiration?
Ruby – "Villa Muller, by Adolf Loos… I like the combination of materials. Not that I endorse his view of women or anything!"
Abel – "I think it has to be William Morris' Red House. Mainly because of how close it is to home and how we stupidly haven't even been there. I do like William Morris, despite the contradictions that lay in his opinions versus his actions (as with most Modernists too). The house looks incredible for 1860."
Ideas for using rugs
Which types of rugs in the EHL collection are you most attracted to and why?
"We're quite drawn to the brightly coloured rugs – that's a lot of them! A lot of our furniture is birch and we think bright colours work to contrast the yellowy wood. Our favourite to use was the 'Azul blue, Turkish Tulu rug'. We shot that in the birch clad penthouse apartment at the Lawn Road flats. It really suited the 80-year-old plywood that surrounded it.
All of the rugs are timeless though, because they're not constrained by western trends and so they work well with 20th century pieces, as well as extremely antique more grand pieces of furniture. They're very versatile."
What patterns or colours for rugs are you into right now?
"We're quite into check patterns at the moment. What we also like about most of the rugs is the inconsistencies in the weaving and patterns – they have so much more character and warmth than factory produced ones."
Any tips for styling with the rugs and positioning them?
"It's nice to incorporate them into the living space but try hard not to be tied down by the rules of where and how to place them. They're also there to be used, so don't isolate them as the centerpiece, have them work for you. To us they work over the top of furniture. For instance sofas are famously hard to get right and covering the sofa with a rug, so long as it's soft, can really work. Move them around and use them in different areas, until you find somewhere that feels right. And don't be afraid of changing them around from time to time."
Find out more information at Abel Sloane 1 9 3 4