Emily's House Reading list…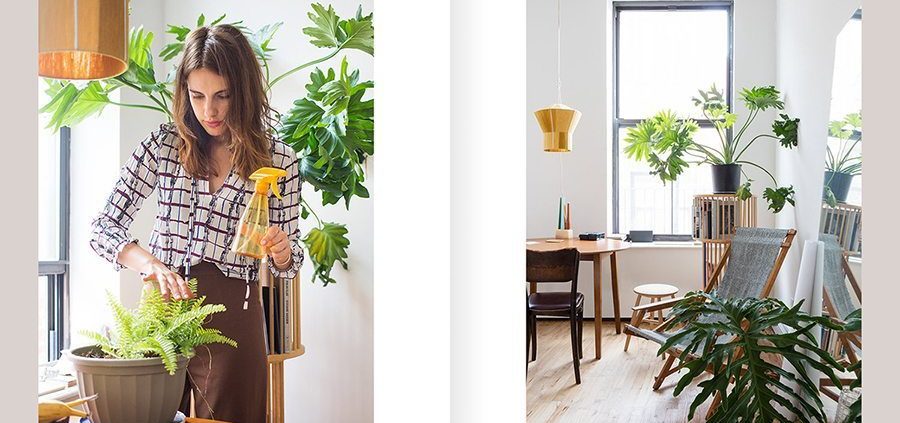 We've got three inspirational interiors books for you today, each one offering something a little bit different – each one being added to our ever-growing reading pile.
The first covers the current trend for domestic plants. Do you remember when these were deemed totally uncool? Well not anymore, and it's hard to imagine such a healthy thing going back out of fashion.
The second book looks at African textiles in close detail – and thus is close to our heart – and the third is a bible of contemporary and modernist homes from the people who run niche estate agency The Modern House.
Greenterior
The perfect book for plant-loving interiors nerds, Greenterior showcases the homes of 20 creatives who have a passion for green and is full of ideas for how to display your plants, as well as tips on how to care for them. The book is by photographer Bart Kiggen and journalist Magali Elali, the duo who created chic interiors blog Coffeelatch – plantlovers themselves, who, with Greenterior, wanted to make the case for more greenery in the home. Visiting New York, the Netherlands, Barcelona and their native Belgium, the pair shot the private homes of a great mix of subjects, including interiors photographer Martyn Thompson, artist Ana Kras and furniture designers Muller Van Severen. Helpfully, each case study is followed by a plants glossary so that you can get to know your Agave from your Anigozanthos.
The New York home of photographer Martyn Thompson  The New York home of artist Ana Kras  The Antwerp home of painter Piet Raemdonck
African Textiles
Just re-issued, African Textiles is written by John Gillow who has collected textiles and lectured on the subject for 35 years. His comprehensive journey through the traditional handmade textiles traditons of Africa explores region by region, the colourful, diverse and vibrant hertiage of the continent's North, West, East, Central and Southern areas. As well as looking at traditions and techniques, and showcasing materials and patterns in glorious colourful images, the book discuses the impact of textiles on Africa's religious, social and political cultures – in particular, looking at how the role of women has shifted from domestic to business. The book is both an education and an inspiration – particularly for pattern and colour lovers.
A craftsman in West Africa, from African Textiles
The Modern House
Architecture journalist and author Jonathan Bell has worked with The Modern House's founders Matt Gibberd and Albert Hill on this glossy book that acts as a sort of 'best of' for the niche architecture estate agency. The focus is on British buildings and there are architectural icons present – London's Barbican, Isokon building and High Point- alongside stand alone country villas, some of whose interiors have not been seen before. Ideas for decorating the contemporary home are plentiful. But really, this is the sort of book that's ripe for escapism and dreaming.
Barbican, London  West Common Way, Harpenden Hartfordshire  High & Over, Amersham, Buckinghamshire  Holyport House, Maidenhead, Berkshire