With an increasing number of people telling me that I would love Morocco, most notably Marrakech, I thought it was time to dust off my exploring shoes and give the place a whirl. After five days of experiencing Marrakech first-hand I can confirm that they were indeed right – I love it.
Places to Stay
Casa Glya – With only five-days to spare, my partner and I decided to start with some much-needed R&R at Riad Casa Gyla in the Palmeraie district, a palm grove oasis of several hundred thousand trees only ten minutes outside of central Marrakech. The main house, originally designed by Bill Willis, the renowned interior designer responsible for creating homes for the likes of Marie-Helene de Rothschild, Pierre Berge and the late Yves Saint Laurent, as well as public commissions such as Hotel Tichka and restaurants Dar Yacout and La Trattoria in Marrakech. With six beautiful, ground-floor suites, two private cottages and the Suite Les Amoureux, which occupies the whole first floor, there is plenty of accommodation to choose from – it's worth noting that the whole place can be booked out for private hire. The informal palm and floral gardens offer relaxation in hammocks and sun loungers and the fresh water pool is the perfect temperature for cooling off. A traditional Moroccan breakfast is served on the terrace daily and healthy, simple lunches and dinners can be ordered in advance.
Hotel Rian Flam & Spa – Once rested, we headed into the old town area of the Medina for two nights at the Hotel Riad Flam & Spa, a place neatly tucked at the end of a quiet alley only a five-minute walk from Jamaa-el-Fna Square, the gateway to the main hub of the Medina. The Riad offers massage and hammam treatments (a Moroccan version of the Turkish bath). The roof terrace, with its sun loungers and a rooftop jacuzzi, is a great place to wind down after a busy day of sight-seeing. Our stay here was comfortable and quiet and it was easy to find, a huge bonus in the warren of lanes and alleys.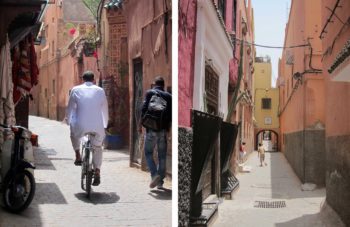 The Medina & Souks
The walk from the Riad to Jamaa-el-Fna Square is fascinating and passes hidden gem La Famille Restaurant at 42 Riad Zitoun Jdid, an oasis of calm with cooling places to sit and sample a delicious, Mediterranean influenced, largely vegetarian menu. Smaller lanes give way to larger roads as you reach the lively square. We mapped-out a circular route, entering from the top left corner of the square and exiting at the bottom right, making sure we passed through two smaller squares, Bab Ftueh and Rahba Kedima, the latter of which has a buzzing market vibe and some good café's for watching the world go by. The Souks, as expected, were awash with touristic souveniers, but there were plenty of stylish things to catch the eye; colourful rugs, pompom decorated blankets with metallic thread, silver leather pouffes, sequined baskets, painted plates and bowls and copper lightshades all had my interest.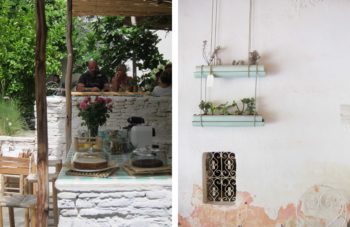 Rest & Relaxation
We had been advised to indulge in a couples hammam spa treatment and massage at Hammam de La Rose at Dar El Bacha – here we immersed ourselves in two and a half hours of bliss. The dark interior of the hammam rooms interspersed with twinkling pearlescent mosaic tiles and the sound of running water made for an all-round sensory experience. The massage was amazing and we came out refreshed.
Next we headed to Herboristerie Bab Agnaou, located just inside the city wall between Rue Bab Agnaou and Rue Bani, which sells the most wonderful natural body products and scents. I came away with Karite & Rose Dades face cream and a heavenly scented roll-on Rose Dades oil.
A City Oasis
The Jardin Majorelle sits just north-west of the Medina wall and is an oasis of calm; the gardens are one of the most visited sites in Morocco. French painter Jacques Majorelle (1886-1962) devoted forty years of passion to create this enchanting garden which he opened to the public. Yves Saint Laurent and Pierre Bergé discovered the Jardin Majorelle in 1966 during their first stay in Marrakech. On hearing that the garden was to be sold to make way for a hotel some while after Majorelle's death the pair set about buying it, eventually owning the garden and Villa Oasis, which was later subject to a Bill Willis overhaul. Striking primary colours, including the intense Majorelle Blue created by Jacques Majorelle, are painted throughout the gardens on walls, fountains, and the villa itself (which, if you stand on tiptoe you can see set in its own gardens).
In 2011, the Berber Museum was opened and plays host to more than six-hundred objects from the Rif to the Sahara deserts. The permanent exhibition shows the great diversity in Berber traditional skills and craftsmanship in working with leather, textiles, wood, pottery, metal and basketry; the detailed costumes, textiles, jewellery and carpets on display here are sublime. Make sure you pop your head in to Yves Saint Laurent's Love Gallery for a great nostalgic art fix and refuel and refresh yourself of Café Majorelle which serves delicious, simple food in a cool courtyard.
For me, Marrakech was one of those inspiring places where my camera never got put back in to its case, my senses were stimulated, my eyes wide-open, and an interest in Moroccan interiors was piqued. I'll be going back.
Follow Alice on Instagram @alice.roberton
Marrakech Links
Casa Gyla http://casa-gyla.com
Casa Gyla was booked through Airbnb https://www.airbnb.co.uk/rooms/8527420
Riad Flam http://www.riadflam.com/english
La Famille Restaurant, 42 Riad Zitoun Jdid
Hammam de La Rose http://www.hammamdelarose.com/en/
Herboristerie Bab Agnaou, 1 entrée Bab Agnaou, Wuartier el Kassba Marrakech
Jardin Majorelle http://www.jardinmajorelle.com
Bill Willis:
Great feature on Bill Willis in Architectural Digest from 2012.
http://www.architecturaldigest.com/story/bill-willis-book
Gentry Connects on Bill Willis, 2013 http://www.gentryconnects.com/2013/02/bill-will-designer-extraordinaire.html
https://www.emilyshouselondon.com/wp-content/uploads/Alice-Roberton-profile-pic-93-square.jpg
2551
2551
Katrien
https://www.emilyshouselondon.com/wp-content/uploads/emilys-house-rugs-logo.jpg
Katrien
2017-07-07 12:48:30
2018-02-27 15:55:05
Destination Marrakech by Alice Roberton