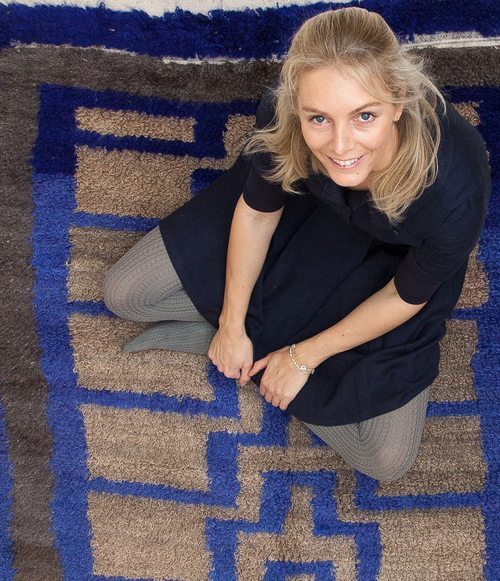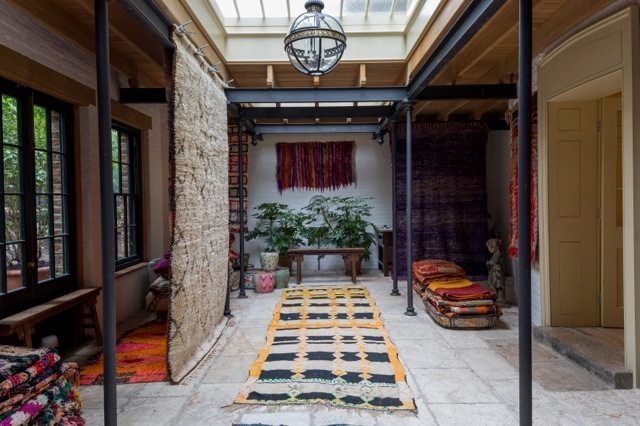 Katrien Vermeeren
Katrien Vermeeren first became inspired by rugs and carpets while travelling to the Middle East and Africa. Finding unique and beautiful designs made by local craftspeople – from Berber women to Turkish nomads – she became passionate about the handmade Kilims, Beni Ouarain rugs, Boucherouite and vintage Caput carpets that she sources and sells today. Each and every rug that Katrien finds has its own inspiring story and is a unique and timeless piece of design.
Clients include HAY, Designer's Guild, Skandium, The Hackney Draper, Olivia Outred Interior Design and Lucy Elworthy Interior Design.
Where does your passion for textiles and design come from?
"My parents both worked in furniture and design and had two shops, which as a child I spent all my weekends in, playing hide and seek with my sister under the made-up beds and roller skating between the Cassina and B&B Italia. I always loved interior design and decorating, and also being creative with fabrics, making my own pillows and patchwork backpacks."
How did you start Emily's House?
"While travelling with my husband my passion started to get more serious and he encouraged me to start my own company selling carpets and vintage goods. When the Danish brand HAY was looking to add some vintage rugs to its collection, I took that responsibility on and my own brand grew from there."
What makes the rugs so magical to you?
"Most rugs are made by Berber woman or Turkish nomads, who weave the carpets initially for their own homes or tents. Their lives are spent on the floor so bedding, blankets, decoration are laid out as protection against the stony floors. Weaving skills are passed on from mother to daughter, through observation and practice. The general look and feel of each rug will always be in line with the tradition of the weaver's tribe, but as there is no drawing or design to follow, there is much room for the maker's own imagination, feelings and fantasy. This makes every weaver the artist of her own rug and every piece unique."
Where do your rugs work best?
"I think our rugs work well with both modern and traditional furniture. It's all about the mix – something old with something new. I also like displaying the rugs on the wall, or thrown over a sofa. And they look great layered together or used to create a statement at the heart of a room."